Review: Little Miss Sunshine
One of the first trailers I posted here was the one for Little Miss Sunshine, and I was very excited about seeing the film. Finally last weekend I arranged a trip with my wonderful French film student housemate to see it at the cinema. Having watched the trailer a silly amount of times, I wasn't very surprised by the content of the film, but there were still many great moments that were new to me, for example the hilarious ending (I won't spoil it for you, but if anyone leaves this movie not in fits of giggles there is something wrong with them) and the running joke of the family having to run and jump into their van each time they got it started.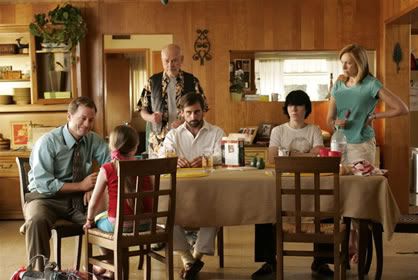 Something you can't fail to notice in this film is the amount of yellow. Anything that could be yellow is yellow, from the family's van to the teenage son Dwayne's t-shirt - very fitting for a film called Little Miss Sunshine, and in fact there may never have been a better suited title for a film because this really is the most uplifting film I've seen in a long time. It is sunny and smiley and it's only a shame I emerged from the cinema to find the aftermath of a small tornado! If you ever need cheering up, then a viewing of Little Miss Sunshine should easily do the trick.
I wouldn't say that Little Miss Sunshine is my favourite film ever or anything of the sort, but it's the type of film I love (eccentrically jolly) made for a more mainstream audience and it's great to be able to share the pleasure this kind of movie gives with more people. Perhaps it will inspire them to go and see more of this kind of film and soon Hollywood blockbusters will be wiped out and replaced with this sort of heart-warming thought-provoking magnificence.